OAKLAND A'S - 2010


KANSAS CITY ROYALS - 2011
In 2011, the group visited Kauffman Stadium to root for the Kansas City Royals against the Boston Red Sox. Although not on the "endangered species" list of stadiums (or stadia for fans of latin), Kauffman was chosen as the destination in a season in which there did not appear to be the imminent demise of another ballpark.

This season, the group expanded, once again, to include Jeffrey's younger brother Matthew.



An Act of Kindness..........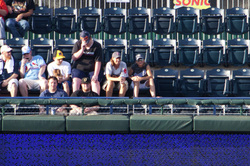 ---
I surprised the group with a full access pass to the game including field access for batting practice and the National Anthem. After the game each of us was given an autographed bat, ball, hat and other Royals swag.

Jeffrey "won" the hot dog toss. Caught part of the bun and tried to negotiate with the dude behind him who caught the dog...............

Our guide/escort for our all access experience before Saturday evening's game. Morrie Carlson is a great asset to the Royals organization!

Another shining star in the Royals organization is one of the supervisors for the ushers. We told you we would include you Trish.............
TAMPA BAY RAYS - 2012
23 Years together - - - and they never had a fight...................
Fortunately attendance was low so we were able to fit both Bob and his ego in the stadium..........
Sunset on the Gulf of Mexico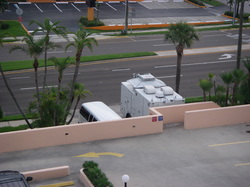 ---
Then you should make sure you are not holding a beer in one hand
and
your cell phone in the other!
Till next season....................

"If a woman has to choose between catching a fly ball and saving an infant's life, she will choose to save the infant's life without even considering if there are men on base." Dave Barry


JUST ANNOUNCED
THE DEAD STADIUM TOUR HAS SELECTED AS THEIR 2013 DESTINATION......
JOHN HAS HIS OWN "OPENING DAY"

JEFFREY'S DEBUT MUSIC VIDEO
TORONTO BLUE JAYS- 2013






The 25th Anniversary Destination in 2014 is................................